Home & Away – we can be the ultimate pet sitter or would be happy to welcome your dog to the OUTPAWS home
Home visits and walks for dogs who love having friends over, or send your dog to the OUTPAWS home for a fun and friendly sleepover.
How OUTPAWS Home & Away Works
Set your schedule
Whether it's just for the weekend or a few weeks, select your days and we'll fit your schedule
Make the handoff
That could be the information to get started caring for your pup in your home, or dropping your dog off at the OUTPAWS home
Follow along
Receive pictures and videos of your pet enjoying playtime, meals, and snuggles (when requested)
Pick Your Care
Dogs new to OUTPAWS will need to fill out introductory questionnaire. Prices available upon receipt of further information. Fill out the form on this page to get started!
At OUTPAWS we understand that our clients sometimes prefer us to stay with their pets at their home. Most animals are creatures of habit & routine and familiarity is important to them. This service offers comfort and reassurance for pets and their owners in the safety & security of their home.
Please note, this service is only available in Dublin 4 & 6. If you request the service, outside this area. An additional surcharge will be charged.
Based in the clients' home
If an additional walk is required this will be charged as per OUTPAWS dog walking rate, per type of walk.
Boarding at the OUTPAWS Home
If you choose our boarding service, your woof will come to stay at the OUTPAWS home and with its (resident Mr Brockagh woof) if he/she is suitable for home boarding. Please request information on our stipulations for this service.
Based in the OUTPAWS home
Socialisation with the other dogs
6pm drop off, collection 10 am
OUTPAWS will request updates and confirmation on all recent vaccinations and boosters for your woofs. Please note that we need to be advised on any medical issues, with your dog when using any of the OUTPAWS services.
Frequently Asked Questions
Who is OUTPAWS?
What do we do? OUTPAWS is a luxury Bespoke Dog Business.  
It is one of the few business of its type in Dublin and Ireland catering for people who require a number of unique services for their pets, that are different from the average dog business. The target market for outpaws.ie is based on dog owners who absolutely adore their pets and want to use the specialized services. Many people in Ireland today would consider their pets to be part or very much an integral part of their lives. 
Who's watching my pet?
At OUTPAWS, We pride ourselves on building individual relationships with your dog and trust with you. From the moment you make an enquiry for one of our services. You deal directly with OUTPAWS. You will receive individual attention, along with a free one on one meet & greet to access the best type of walk for your dog's individual needs. Then we follow up with the walk plan for your woof, once booked. Outpaws  will then provide the service with our trusted team. Your dog will only ever be with the outpaws staff when he is/ she is on their walk.
Is OUTPAWS right for my dog?
The OUTPAWS ethos is based on a community love of our animals. We know our dog owner clients absolutely adore their pets and want to use the specialized services to bring the right experience for your beloved woof.
Do my dogs need to provide current vaccination records?
As responsible dog lovers & owners. OUTPAWS will request updates and confirmation on all recent vaccinations and boosters for your woofs. Please note that we need to be advised on any medical issues, with your dog when using any of the OUTPAWS services. We know our doggie community are always up to date with the important health reminders, to ensure our much loved furry friends are not in harm's way and OUTPAWS is of providing a safe and disease free environment for your much loved woof.
Can I combine minding with any other services?
Yes you can combine walks with any of our other services ranging from Daycare, Pet behaviour, or even holistic care for your pets mixed with our bespoke services like Wedding Woofs, Pet Parties and Pet taxi to include Groomer collection and a pick-up service.
How do I pay for the service?
The outpaws service can be paid via bank transfer or if you are a regular client we can set up a monthly billing system for you in advance of the service that you will repeat monthly. If you want to trial the service. You have the option to purchase a OUTPAWS gift voucher for the value of the service you wish to receive.
When will I be charged for service?
You will be charged for your service by either paying a 50 booking deposit for a specific service i.e. dog minding/ daycare or a bespoke OUTPAWS service. Or you will be charged in advance if you wish to book your service immediately ie for OUTPAW walks i.e. solo or group walks.
We can't wait to meet your fur baby. Click the button to fill out a form so we can get to know you and your pup better.

"When, I first met Laoise when she was organising the Pedigree Chum Dog spa at Ireland's first Pet Expo in 2006. She was utterly professional in her duties and displayed her obvious caring attitude towards dogs and people. From that time I have seen her passion for all animals, their welfare and requirements, but dogs remain her number one focus. Over the years she has shown and developed her knowledge of the breeds and has undertaken studies to improve her understanding of behaviour and training and I have been delighted to help her in her professional development. Her commitment to her new business of OUTPAWS reflects her personality and drive to innovate. She is honest, trustworthy, fun and caring and if her charges could talk they would unanimously agree that with Laoise, Life is more than a walk in the Park."
– Jim Stephens, Owner at the Pet Behaviour Centre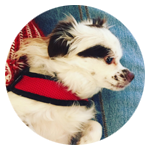 "Our pups love Laoise!!! We were super nervous pet parents new to Dublin from the US and were very worried about finding someone new here to mind our beloved fur babies. Meeting Laoise put our minds at ease. She was so open to our special requests and very communicative about the pups' activities while also being a lovely, considerate, trustworthy guest in our home. We're excited about all the new travel possibilities. THANK YOU, LAOISE!!!"
– Dottie
Kieran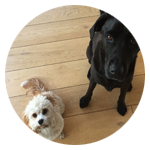 "I have never been able to leave my dogs at kennels...I just wouldn't be able to relax knowing that the experience could be extremely stressful for my boys, especially as one of them is of a nervous disposition. Therefore, I went looking for a pet sitter and found Laoise from OUTPAWS. Laoise has dog-sat my two senior boys several times now and I've been able to enjoy my holiday knowing that their every need, including medical requirements, are taken care of. Laoise sends regular updates with pictures and I'm never surprised to see that the boys have welcomed her into their home whilst quickly claiming her lap and sharing cuddles! If you want your furry babies to feel safe and loved while you're away, without the upheaval and stress of being in a new environment, then Laoise from OUTPAWS is your person!"
– Bailey & Bruno
Diane Blaum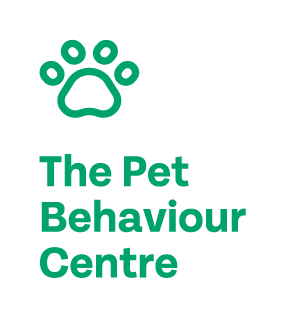 The Pet Behaviour Centre
Healthier and happier pets.
We improve the lives of pets and their owners through a programme of education, behavior modification, positive reinforcement and training.
Jim Stephens BAHons Msc.CABC is a Pet Behaviour Counsellor with more than 35 years of experience working with pets, their welfare, training and policies affecting them. Jim is a specialist in dog and cat behaviour problems; particularly children and dogs.
Clare Kelly Pet Portraits
Clare Kelly is an artist, originally from Strabane in County Tyrone. She is currently living and working in the Midlands of Ireland, Mullingar. She has a B.A (hons) Combined Studies in art and design and from a variety of mediums she can capture your beloved pet. Claire has been a dog owner all of her life and she describes it as "simply a joy to create a special piece for you and your much loved pet".
Clare can be contacted directly, if you wish to commission a personal portrait of your pet. She can be contacted by mobile on 0872263423 or by email at clarekellyartist@gmail.com

Wedding Woofs
Many people would love to have their best friend and woof at their wedding. However logistically it can seem like a difficult task to consider. OUTPAWS is here to make it work,  whether you want your woof to be part of the whole day, or simply just for a quick visit and a photograph.
We've teamed up with "Blue Dog Groomers" on Clanbrassil Street to provide several bespoke wedding grooming packages for your woof to make sure they look wooftastic on your big day. In addition, we can also arrange the drop off and pick up from the groomers that morning.
Mon - Fri
7am - 7pm
Weekends
Dog Minding Only
Ballsbridge Ave
Dublin 4
Ireland