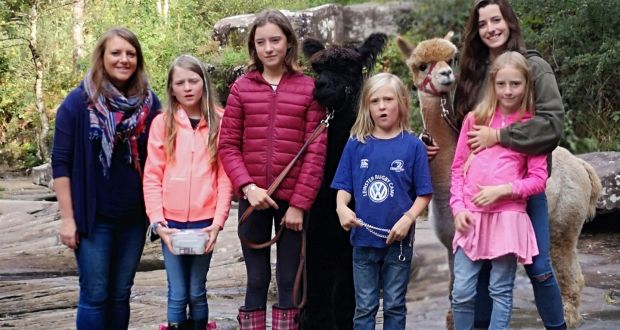 A Special Report is content that is edited and produced by the Special Reports unit within The Irish Times Content Studio. It is supported by advertisers who may contribute to the report, but who do not have editorial control.
Imagine going into work and being smothered in a sea of slobbering kisses and bowled over by a stampede of adoring furry admirers. That's what many animal entrepreneurs experience when they arrive in the morning – instead of a grunt from the office grump. From devoted dog walkers and alpaca farmers to pygmy goat breeders – they adore their careers.
One adventurous spirit is Laoise Downes, once a PR executive with her own marketing company and now the happy owner of a dog-walking and minding service called Outpaws.
Downes originally set up her marketing company in 2003. "I put my heart and soul into that business," she says, with one of her beloved dogs on her lap. "It thrived for many years but with the sudden decline in business due to the recession, it folded in 2011. So I pulled up my sleeves and enrolled in a communications course in DCU."
On graduating, she worked on radio and music documentaries, but found her heart wasn't really in this line of work.
"I found it tough carving out a demanding and unpredictable path in the communications business and trying to make ends meet. My marriage had broken up and I felt like I was existing but not truly living."
She decided to follow her passion and set up a dog-walking service in her local Dublin 4 area instead, and she hasn't looked back. By merging her passion for animals, particularly dogs, into a lifestyle career, she found contentment and a fulfilling career.
'Incredibly therapeutic'
"Animals are incredibly therapeutic. They live only in the present moment, which helps me to stay present. Every day, they teach me something new about love, affection, forgiveness and consistency. I don't have any children, but I feel that love through my family of woofs. It's so rewarding to watch them grow and adapt to the world around them.
"Since setting up Outpaws I've met fantastic like-minded people through dog-walking groups. The exercise is also fantastic and I feel more energised than ever before. It's true what they say – if you love what you do, you'll never work a day in your life!"
Every day is different for the Outpaws gang, consisting of healthy dog walks and regular doggy day-care clients. Downes' morning usually starts at 8am, when the canine clients are dropped off and ends about 5.30pm with the last pick-up from day care. "Myself and my pet dogs often visit elderly clients at their homes in the local area to cheer them up. We might head off to Herbert Park, Dodder Park, Sandymount Strand and Killiney Hill."
Downes often works weekends too, when she offers a dog-minding home service, along with grooming from a local parlour so the owners can pick up a spotless, pampered pet. Another package is Wedding Woofs for clients who want their furry friend to be at their wedding.
"Working with animals is certainly therapeutic. I get to wake up every morning always grateful and looking forward to the day ahead. I know that everyone isn't in a position to follow their dreams, or just change career, but if I was to offer any advice it would be to make sure whatever you do, that every day counts for something and means something to you."
For more, visit www.outpaws.ie
Read the full article at: https://www.irishtimes.com/special-reports/business-ireland-magazine/pet-plan-meet-the-animal-entrepreneurs-1.3651402